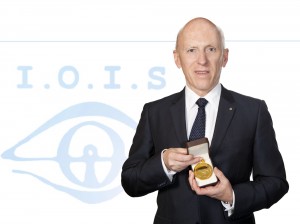 Prof. Jorge Alio, medical director of Vissum Corporation, has received the first Gold Medal of the IOIs (International Ocular Inflammation Society). The president of the society, Dr. Narsing Rao, said: "It is a great honor bestowed upon the person who has most significantly contributed to the preservation and improvement of the IOIs."
The Gold Medal was awarded to Prof Alio during the opening ceremony of the international conference of this society, held in Valencia from the 26th to the 28th of February.
Dr. Alio was, along with Prof. David Benezra from the Hadassah University Hospital in Israel, the founder of this association in 1990. With this recognition, the IOIs wanted to thank the Professor for the services provided over 24 years at the University Miguel Hernández, as well as for his scientific work in the field of ocular inflammation.
At the International Congress of the IOIs (12th International Ocular Inflammation Society Congress), Prof. Alio gave a lecture on cataract surgery in patients with uveitis, a subject in which he is considered one of the most reputable international experts.