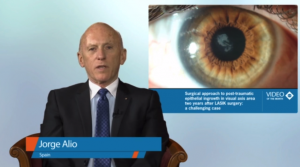 In September Barcelona hosted the XXXIII Congress of the European Society of Cataract & Refractive Surgeons, in which Dr. Jorge Alio and his scientific team took active participation.
At the mentioned earlier scientific event Dr. Alio delivered lectures on "Femtosecond laser-assisted corneal surgery," and he was the only speaker on this topic at the conference. Dr. Alio and his team are experts in this field, they have published first and unique to date book on corneal transplant surgery with femtosecond laser a few months ago. The lectures counted on the collaboration of the best European experts in the field.
Also noteworthy to mention the meeting of the International Society of Refractive Surgery (ISRS), which was also conducted by Professor Jorge Alio, who organized a dynamic meeting with the participation of international experts along with Spanish guests, both participated in the presentations and in the debates, which followed each thematic block. The meeting was attended by over a thousand participants; it extended till the evening and was a complete success.
An important meeting on "Femtosecond laser-assisted cataract surgery" was conducted by Chairman in Ophthalmology at the University Miguel Hernandez along with Dr. Oliver Findl of Austria. In fact, three years ago the first femtosecond laser was introduced in Spain by Prof. Alio, it was installed in VISSUM Alicante for Cataract Surgery. The reports, based on clinical results, shows that the advantages of this apparatus, do not exceed those of conventional surgery for the moment, so that it should be still considered as a subject which needs improvement. Major advances have been made in diagnosis by the image of the anatomy of the anterior segment, which is very important in surgery and finally the future prospects make this technology a huge area of clinical research for the future. Although, for the moment, its clinical applications are limited.
Finally, we share the video of the month, which was made with the collaboration of Dr. Jorge Alio and published by the ESCRS in its new online educational web portal:
Surgical approach to post-traumatic epithelial ingrowth in visual axis area two years after LASIK surgery: a challenging case from ESCRS on Vimeo.