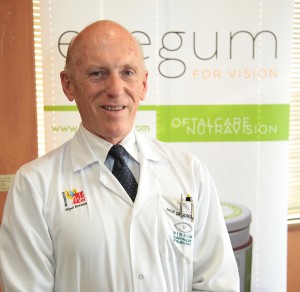 This innovative product was presented on World Sight Day. It was developed under the direction and scientific supervision of Dr. Alio, along with the support of Foundation of Jorge Alio for the Prevention of Blindness.
EYEGUM is a global innovation which contains vitamins A, C and E and major active components which improve eye tissues nutrition. It has been developed to deliver extra contribution of vitamins and essential active components for vision, in new format, accessible to all sectors of society. It is the first bubble gum in the world to improve eye tissues nutrition, providing the minimum dose, recommended by the European Food Safety Authority (EFSA), to complement vision care.
The presentation of this product was attended by Javier Prado, CEO of Oftalcare Nutravisión, Jorge L. Alio, scientific director of EYEGUM, Maria Lopez Iglesias, president of the Jorge Alio Foundation and Dr. Eva Garrigós, a specialist in nutrition and dietetics.
This release coincided with World Sight Day, proclaimed by the United Nations (UN), and celebrated on the second Thursday of October. Its aim is to focus attention on blindness, visual impairment and rehabilitation of the visually impaired. It is a very important promotional activity, which was held under the slogan "Eye health for everyone".