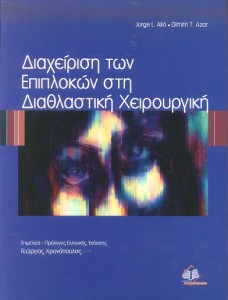 The book "Management of Complications in Refractive Surgery", published in English and Chinese, has recently been translated into Greek. Its authors are professors Jorge L. Alio and Dimitri T. Azar, and this is the first publication dedicated to the management of complications in refractive surgery with practical advice and the suitable solutions for the most common problems which ophthalmic surgeons face during their daily practice.
As explained in the preface, "the diversity of procedures that characterize modern refractive surgery makes it necessary, for both the novice and the experienced surgeon, to have guidelines to help them deal with the complications." This guide is lavishly illustrated, and has been developed by international opinion leaders with broad experience in the practice of refractive surgery.
Other aspects discussed include: Intraoperative complications, such as intraocular refractive surgery, femtosecond laser, Lasik and Epilasik, change of refraction of the lens, corneal refractive surgery, early postoperative complications and late postoperative complications.