Dr. Alió attended one more edition of this ophthalmological meeting as one of the greatest experts in the anterior segment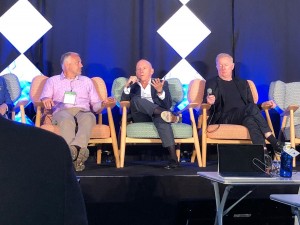 The 8th Annual AECOS European Symposium of The American-European Congress of Ophthalmic Surgery was held in Sitges from June 6 to 9. One more year, Dr. Jorge Alió, the first Spanish member of the prestigious American Ophthalmological Society, attended this important meeting to discuss keratopigmentation. As an expert in the most advanced type of corneal surgery, including an exclusive technique for eye colour changes for cosmetic or therapeutic reasons, Jorge Alió shared his experience in real cases with other professionals.
Moreover, Dr. Alió, the professor of Ophthalmology at the Miguel Hernandez University (UMH) of Elche, gave the presentation 'Artificial intelligence for intracorneal rings', in which he presented the incorporation of the new technology. As a pioneer in the area of refractive surgery, modern cataract surgery techniques and new intraocular lenses, Jorge Alió participated in debates on these topics. Furthermore, he shared his point of view in sessions called 'Challenges of training young ophthalmologists in refractive surgery' and the 'Fake News and True Stories of Premium Lenses'.
Dr. Alió, who has recently entered the 'Forbes' list of the 100 best doctors in Spain, also took the opportunity to hold meetings with other ophthalmologists, highlighting his studies on cell therapy for treatment of keratoconus at advanced stages.