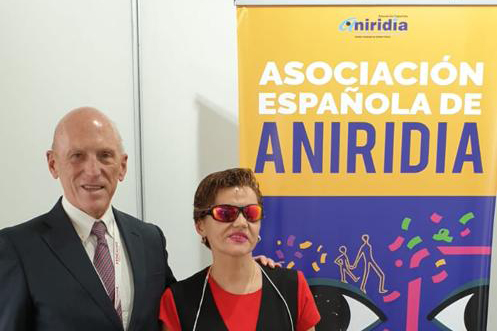 Jorge Alió, the doctor and professor, attended the largest national meeting on visual health in Madrid to present the latest developments of keratoconus treatment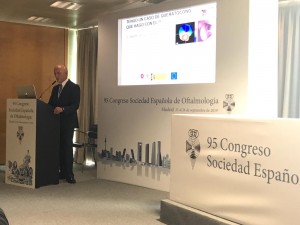 Jorge Alió attended the 95th Congress of the Spanish Society of Ophthalmology (SEO), held in Madrid, 25-28 September, 2019.  Dr. Alió, the Professor and Chairmen of Ophthalmology at the Miguel Hernandez University (UMH) of Elche, once again participated in the largest national meeting on visual health, presenting possible problems and solutions in treatment of aniridia. It is a genetic and chronic eye disorder characterized by incomplete development of many structures inside the eye, which may lead to varying degrees of disability.
Dr. Jorge Alió, an expert in diseases of the anterior segment of the eye at the international level, coordinated this presentation as the Honorary President of Vision Spain. It should be mentioned, that association Aniridia is a founding partner of Vision Spain, a Non-Governmental Organization dedicated to people suffering from low-vision pathologies. Jorge Alió has been collaborating with this association for more than a decade in conducting research, providing patients with technical support and spreading information about the pathology and its treatment. In fact, thanks to Dr. Alió´s request, Alicante will host the 'European Conference on Aniridia' in 2020.
Moreover, Jorge Alió, the Scientific Director of Vissum Ophthalmological Corporation, presented the therapeutic implications, refractive surgery and advances in treatment of keratoconus, a progressive eye disease in which the normally round cornea thins and deforms. Jorge Alió, who has published several works on keratoconus, is one of the most influential experts in its treatment.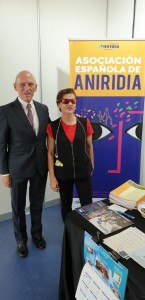 During the 95th Congress of the Spanish Society of Ophthalmology Dr. Alió had the opportunity to speak about the morphological characteristics of the cornea in patients with Down syndrome, refractive surgery after keratoplasty and corneal therapeutic refractive surgery. It should be reminded that Jorge Alió is the first international reference in the lists of experts in the anterior segment, refractive surgery and cornea, according to the international biomedicine ranking 'Expertscape'.
In addition, Dr. Alió attended meetings and discussions with other professionals to update his knowledge. Thus, Jorge Alió, who has recently entered the 'Forbes' list of the 100 best doctors in Spain, discussed such issues as the ocular diopter, the implantation of Intracorneal ring segments, the treatment of irregular astigmatism, the advantages of excimer laser procedures, bilensectomy for posterior chamber intraocular lens, and the biocompatibility and biomechanical properties of the cornea after the implantation of carbon nanomaterials in the corneal stroma.