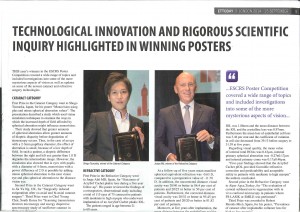 Prof. Jorge Alio, medical director of Vissum Corporation, received the First Prize for the Poster on Refractive Surgery at the European Society of Cataract and Refractive Surgery Congress (ESCRS) held in London. Outcomes of AcrySof Cachet phakic intraocular lens during a five year follow-up is the title of the awarded poster, authored by Dr. Alio and co-authored by Esperanza Sala and Ana Belen Plaza, of the R + D + i Department of Vissum.
Over five years of study, we have followed the cases of 75 patients with moderate to high myopia, on which the mentioned phakic lens was implanted.
But it is not the only prize awarded to Vissum Corporation's professionals. Dr. Alfredo Vega won the Award for Best Free Communication during the session on Corneal Biomechanics. His research focuses on "Interaction and distribution of SWCNTs and graphene within collagen fibers of the corneal stroma," in which Dr. Jorge Alio is listed as co-author.
The involvement of Vissum professionals at the European Congress has been outstanding, especially the interventions of Prof. Jorge Alio on accommodative and multifocal intraocular lenses, as well as advances in keratoconus and keratopigmentation, which was pioneered by Vissum.