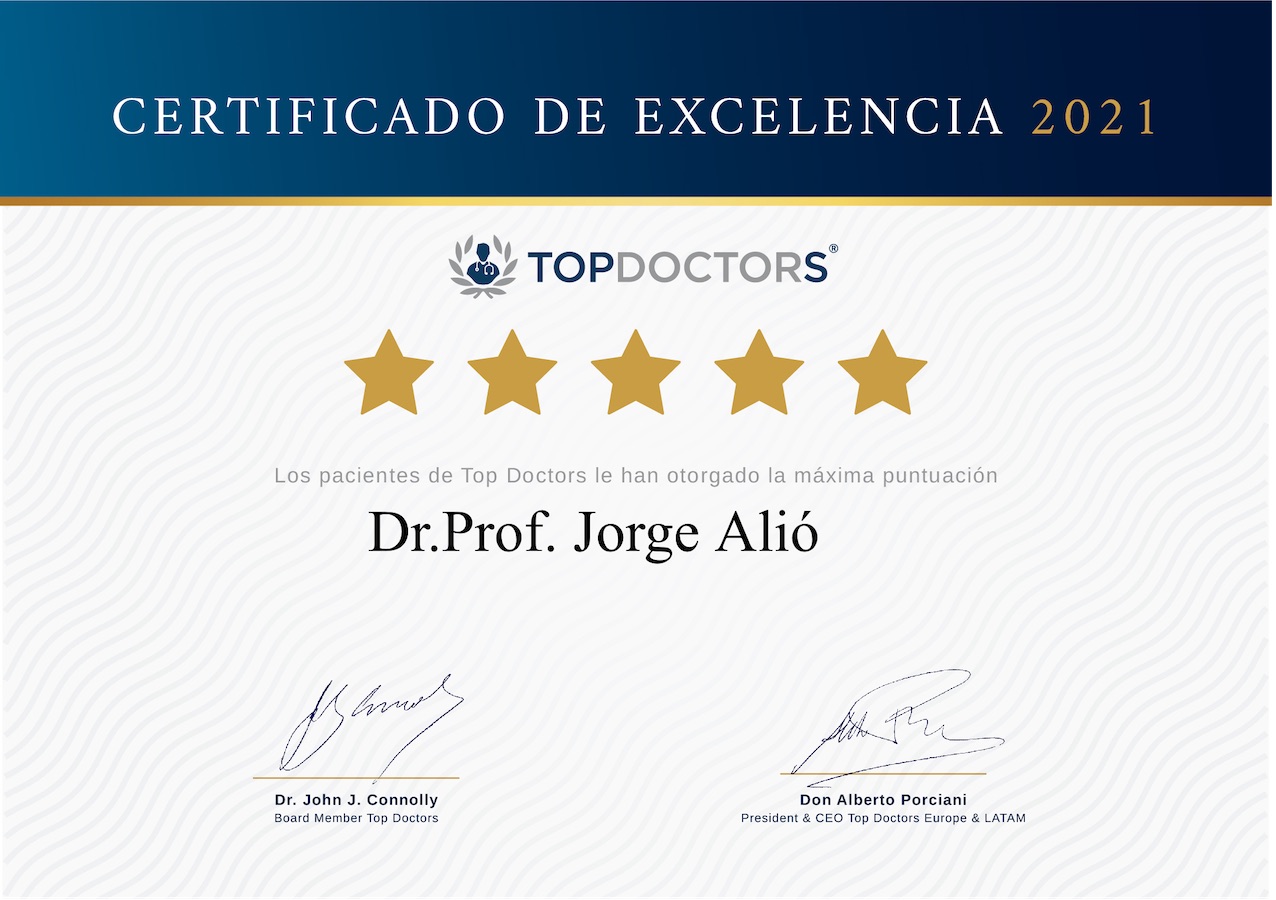 This outstanding medical portal in Spain certifies the excellence of Professor Jorge Alió by obtaining the highest score from his patients
Dr. Jorge Alió has received the recognition as one of the 'doctors best rated by the patients' of the 'Top Doctors' portal in Spain. This medical reference organization certifies his excellence and professionalism by obtaining the highest score in these aspects from Dr. Alió's patients. In 2018, the professor in Ophthalmology at the Miguel Hernández University (UMH) of Elche, was already considered the only doctor from Alicante among the 50 best Spanish doctors, according to the list 'Top Doctors 2018'. This annual ranking collected the assessments of the doctors themselves, as in its 2017 edition.
In this way, the internationally renowned anterior segment ophthalmologist -Jorge Alió-, adds a new endorsement to his professional career, which stands out for his research with stem cells to cure advanced keratoconus. In addition, Alió has been proved an expert in cataract surgery, intraocular lenses, and glaucoma, along with his pioneer work in the introduction of the refractive surgery in Spain, as well as new corneal transplant techniques.
About 'Top Doctors'
'Top Doctors' is one of the most important international portals studying the most outstanding areas of the private medicine in Spain and other countries, with only one in five doctors passing its strict selection process. In this way, it is guaranteed that only the best professionals in each specialty in Europe, Latin America and the United States obtain their recognition. Founded in Barcelona, it was created to help patients to know who is the best specialist in each medical area. More than 23.000.000 users, worldwide, have already visited its web portal, and more than 15.000.000 patients have trusted 'Top Doctors' to select their doctor in Spain, Italy, United Kingdom, Mexico, Colombia and the United States.