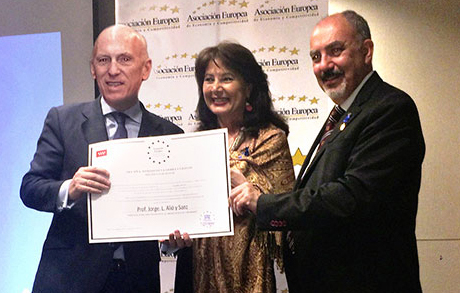 The European Association of Economy and Competitiveness awarded its distinguished "Gold Medal" for merit in work, to companies, institutions and professionals from different sectors, such as prestigious entrepreneurs, doctors, lawyers, magistrates and communication experts.
The award ceremony of the "Gold Medal" for merit in work took place on 7th April, at 9:30 p.m., at Hotel NH Collection Madrid Eurobuilding. This distinction is granted to presidents of various institutions, professionals, enterprises, companies or prominent figures of society in recognition of their merits, relevant services to the European Union and their exemplary work.
At this solemn ceremony, which was attended by the journalist Ana García Lozano, Myriam de la Sierra y Urquijo, President of AEDEEC, awarded the medals to entrepreneurs, managers and professionals with a great professional career.
During the event we had a great pleasure to appoint D. José Luis Barceló Mezquita, Editor and Director of the newspaper El Mundo Financiero, the Vice-president of the European Association of Economy and Competitiveness.  The European Medal of Merit was awarded to such outstanding professionals as: Mr. D. Juan Tomás Rojo, Founding President of SHIRO HELMETS; Dr. María José Barba Martínez, expert in Antiaging Medicine and Aesthetic Surgery; Mr. Salvador Martínez Cañavate, Director of the Experts' Office ABELSA; Dr. Jorge Alió y Sanz, one of the most prestigious ophthalmologists in our country, Founder and Scientific Director of Vissum Corporation; Mr. Enrique Samper Rodriguez, CEO of NIM Genetics, among others.