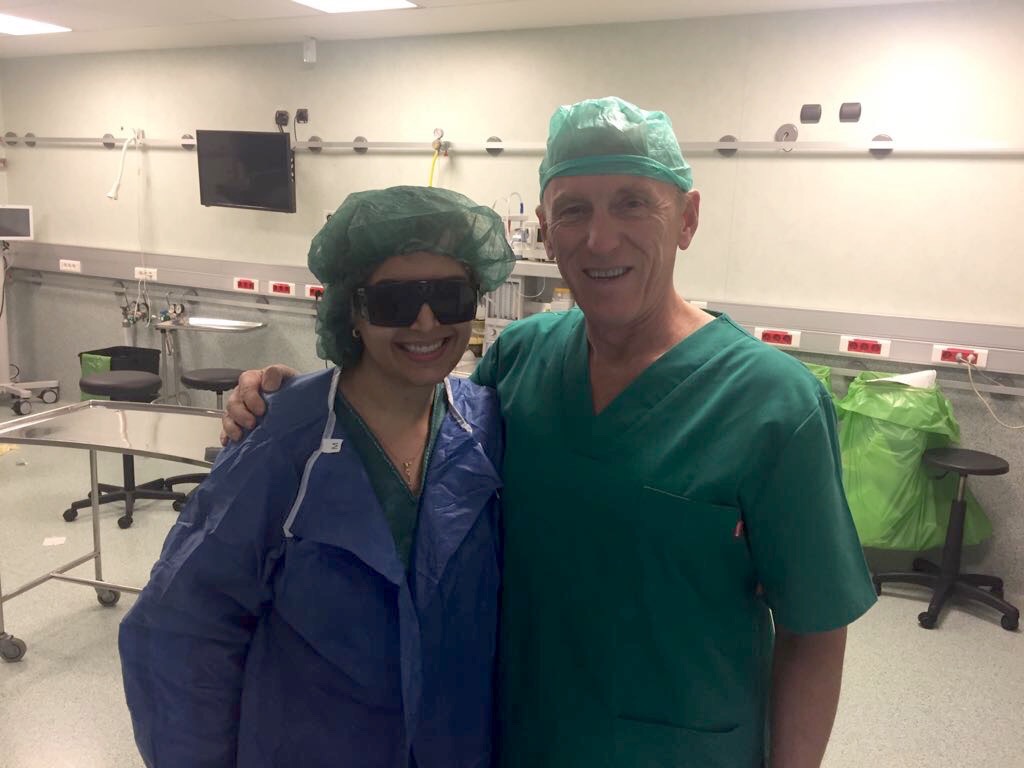 Noemí Laviada de la Garza from the Mexican Social Security Institute traveled to Alicante to learn the innovative technique created by Jorge Alió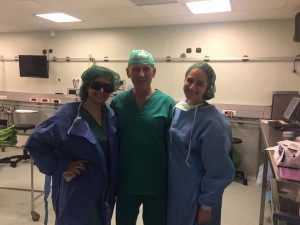 Dr. Noemí Laviada de la Garza has successfully performed the therapeutic keratopigmentation surgery on a patient suffering from a severe ocular cosmetic deformity with blindness, following the technique created by Dr. Jorge Alió and developed internationally at a professional level by Bluegreen (Alicante). Dr. Noemí Lavoada, the Dr. Alió´s student, did a fellowship (two year training period for doctors that is done after a residency and internship) in 'New Corneal Surgery' in 2017.
This surgery was performed by the Mexican doctor at the prestigious Mexican Institute of Social Security (IMSS), the institution with the largest presence in health care and social protection of Mexicans.
The technique of cosmetic-therapeutic keratopigmentation has been fully developed by Professor Jorge Alió and the Bluegreen team in Vissum Ophthalmological Institute of Alicante, thanks to official grants from the Ministry of Industry and Innovation. Laser-assisted surgical techniques, new surgical instruments and specific pigments have been developed over the ten-year period of the study to treat the patients suffering from serious eye diseases and even to change eye colour in patients, who voluntarily want to do it.
The international recognition of this technique is shown by numerous research studies, which have been conducted and more than ten papers, which have been published in international journals. It should be reminded that Jorge Alió, the founder of Vissum Ophthalmological Institute of Alicante and the academic of the Royal Academy of Medicine of the Valencian Community (RAMCV), published 'Text and Atlas on Corneal Pigmentation', the first book in the world devoted to keratopigmentation and directed to eye care specialists. Moreover, three doctoral theses have been developed and presented at the Miguel Hernandez University of Elche.
Dr. Alió, the Bluegreen team and Vissum Ophthalmological Institute of Alicante worked in collaboration with Dr. Maria Alejandra Amesty from the Moorfields Eye Hospital in the United Kingdom, the specialist in biology and microbiology Alejandra Rodriguez, Vissum researcher, and Dr. Mohamed El Bahrawy, also from the Vissum clinic.
Finally, it should be mentioned that the constant study and dedication by Dr. Alió have been key factors for patients to have placed him among the best doctors in Spain within the framework of the 'Top Doctors' directory. Also, recently was chosen by the newspaper El Mundo one of the ten doctors in 'The elite of the scalpel', being the only ophthalmologist selected. He was also awarded in 2015 with the prestigious 'ISRS Presidential Award' of the American Academy of Ophthalmology (AAO) for his dedication and contribution in the field of refractive surgery and the International Society of Refractive Surgery. In addition, Visión España recognized the work of the expert with the Honor Presidency of the association.