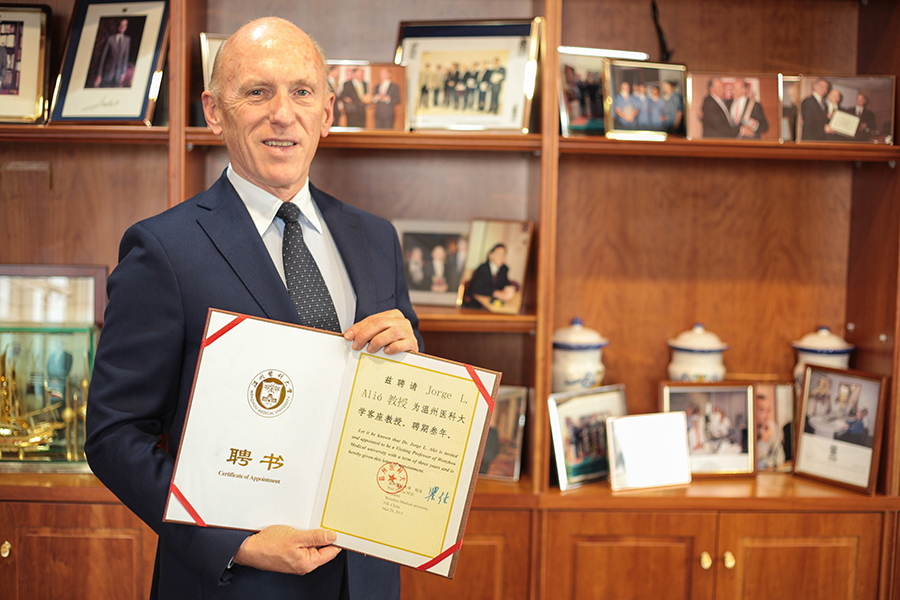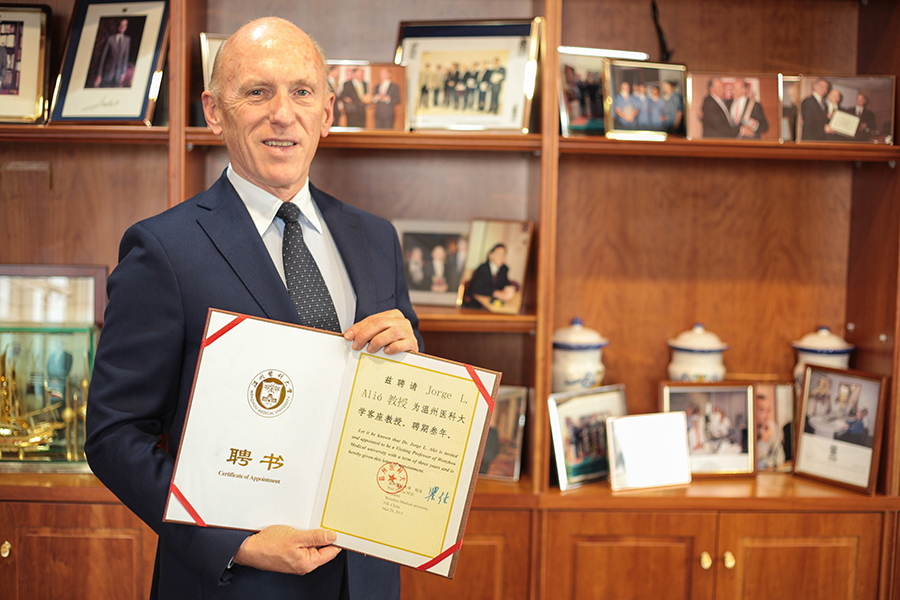 Professor and Chairman of Ophthalmology in the UMH will be the first to implement the framework agreement signed between the two institutions.
Dr. Jorge Alio has promoted the collaboration between the Miguel Hernández University of Elche and the Wenzhou Medical University in China. Thus, being considered one of the 100 most influential ophthalmologists in the world, he is the first representative of this academic institution, who is materializing the agreement giving the first online course of lectures on refractive surgery titled "Clinical methodology in refractive, cataract and corneal surgery". This course has been running since September and is going to be translated into Chinese. In addition, the collaboration extends to the mutual exchange and translation of publications, especially books, scientific articles and monographs.
This agreement will also enable teamwork at any time, not only at scientific studies, but also at reception of Chinese researchers to the Ophthalmology Department at the University Miguel Hernández of Elche, directed by Dr. Alio, with the purpose of increase their knowledge about cataract and refractive surgery. We must emphasize the special interest in collaboration in such fields as diagnosis, etiology, pathogenesis and treatment of keratoconus, a progressive eye disease in which the normally round cornea thins and begins to bulge into a cone-like shape, and in which Alio, who was elected in 2013 as a member of the prestigious American Ophthalmological Society, is one of the leading experts.
Professor Jesus Tadeo Pastor, president of the University Miguel Hernández of Elche, and Jia Qu, president of the Wenzhou Medical University, one of the first institutions of higher education in China in modern medicine, have signed the framework partnership agreement of sharing mutual interest in cultural, technological, educational and medical fields. Thus, they undertake and obligation to exchange knowledge and experiences, provide services which are of great interest for their social and cultural progress, and also promote international relations which the Spanish Government has with countries in other continents.
Both organizations also will establish academic, scientific and cultural cooperation, as far as conferences, researchers, students, articles, academic programs and research projects exchange. Thus, students of Bachelor, Master and Doctorate programs from the University of Elche may apply to spend part of their studies at the Chinese institution, and vice versa, thus obtaining the corresponding examinations and academic credits.
The Wenzhou Medical University was founded in 1912 as a medical school in Hangzhou, but in 1958 it moved to Wenzhou, Zhejiang Province. Its current name was completed only in 2013, when the Ministry of Higher Education of China improved its status, from medical school to university, thus becoming the "Wenzhou Medical University (WMU)". Today there are about 15,000 students enrolled in degree and postgraduate programs in Medicine, Science, Engineering, Liberal Arts, Law, Management, Education and Foreign Languages. It has three offices and ten university hospitals. It also promotes exchanges with educational institutions in Japan, USA, Canada, France, Australia, Thailand, India and Spain.