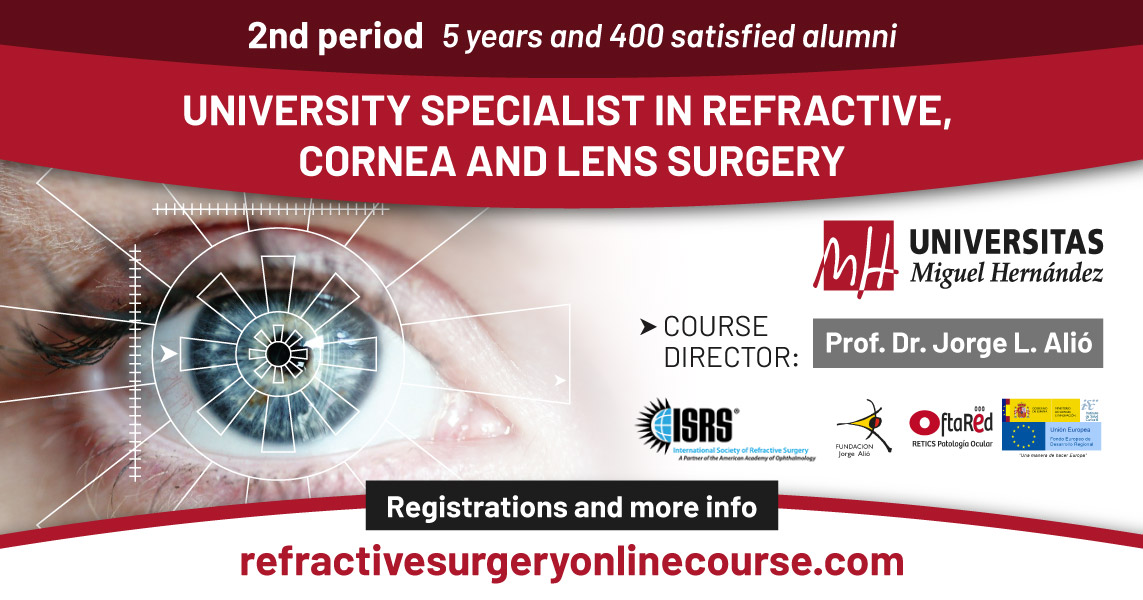 It is an international training model of 275 teaching hours with 50 hours of practice in the area of Refractive Surgery of the Vissum Ophthalmological Institute of Alicante (Miranza Group) directed by Dr. Alió.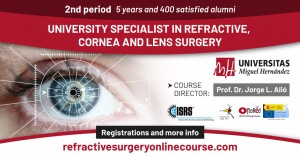 The purpose of this project is to improve the practical knowledge of the ophthalmic personnel and their insertion into the workforce by expanding and deepening the areas of refractive, corneal and lens surgeries.
This course, accredited by the Miguel Hernández University (UMH) with 20 ECTS credits, combines theory and practice to provide an international model of 275 teaching hours, with additional 50 hours of practice in the Refractive Surgery department of the Vissum Ophthalmological Institute of Alicante (Miranza Group). All under the direction of Doctor Jorge Alió, professor of ophthalmology at the UMH, considered one of the 100 most influential ophthalmologists in the world, according to the 'The Power List 2020' of the prestigious English magazine 'The Ophthalmologist'.
The course is based on the innovative online educational contents from Alicante Refractiva Internacional (ARI)[1] and is targeted at medical graduates from a Spanish, European or Hague Apostille universities who have passed the MIR exam and at least the first year of their medical residence in the ophthalmology specialty. The registration period is open until November 30 on the website: https://refractivesurgeryonlinecourse.com/experto-universitario.
The program is part of the ARI-UMH 2021 course and is divided into seven modules with an approximate duration of six months. All the contents are presented in English and mostly online, what guarantees a faster and more flexible educational and learning processes. In addition, students may carry out a voluntary final work under the supervision of Dr. Alió.
After obtaining the 'Degree of University Specialist in Refractive Surgery, Cornea and Lenses', students will be able to employ their acquired knowledge and research methodology to update their CVs and integrate them into their future daily practice as ophthalmologists or refractive surgeons. In this way, they will learn from basic concepts of refractive surgery, such as ocular anatomy, physiology or optics; to the most advanced and novel methods of surgical correction of cataract, corneal surgery and refraction, along with complication management issues. Much of the course will be focused on the different medical research methodologies, analysis of results, statistical methods such as the SPSS software package, as well as the regulation of Good Clinical Practice in the Declaration of Helsinki.
For more specific information here. 
---
[1] International Ophthalmologic Congress that takes place annually with the most innovative advances in medical techniques regarding the Refractive Surgery.
For more information visit: https://aricongreso.com/