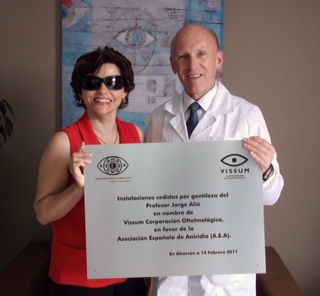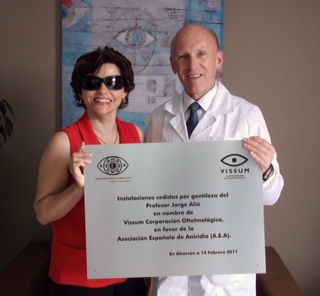 The doctor and professor of the Miguel Hernandez University of Elche extends collaborative partnership with the association Aniridia, a Non-Governmental Organization (NGO)
Doctor Jorge Alió has been distinguished by the title of honorary president of the Vision Spain, a Non-Governmental Organization dedicated to people suffering from low-vision pathologies. The purpose of this organization is to create a common front to give visibility to the needs demanded by the society and which are not covered yet.
Association Aniridia is a founding partner of Vision Spain. Jorge Alió has been collaborating with this association for more than a decade in conducting research, providing technical support to the patients and spreading information about the pathology and its treatment. The organization is based in Madrid and is declared an organization of public interest. Every year it awards an international prize in order to stimulate research in this field.
The disease called Aniridia is genetic, chronic and may lead to varying degrees of disability. Aniridia is an eye disorder characterized by incomplete development of many structures inside the eye. The complete or partial absence of the iris in both eyes and photophobia are the main symptoms. Jorge Alió claims that "it is important to raise awareness of this type of pathology, as it is rare and problematic. Moreover, as there is a lot of biased information it is essential to provide those affected with the truthful one, that is why, among other things, we support them providing technical advice and guidance".
The title of honorary president of the Vision Spain joins a long list of Jorge Alió's awards. It´s important to mention that Jorge Alió is the founder of the Vissum Ophthalmological Institute of Alicante, a professor at the Miguel Hernandez University of Elche, academic of the Royal Academy of Medicine of Valencia (RAMCV) and holds the LXIII chair of the Academia Ophthalmologica Internationalis. Moreover, he has been awarded the European Medal for Merit in Work by the European Association of Economy and Competitiveness.
Furthermore, due to his constant study and dedication, Jorge Alió has been recognized as one of the best doctors in Spain at 'Top Doctors'.