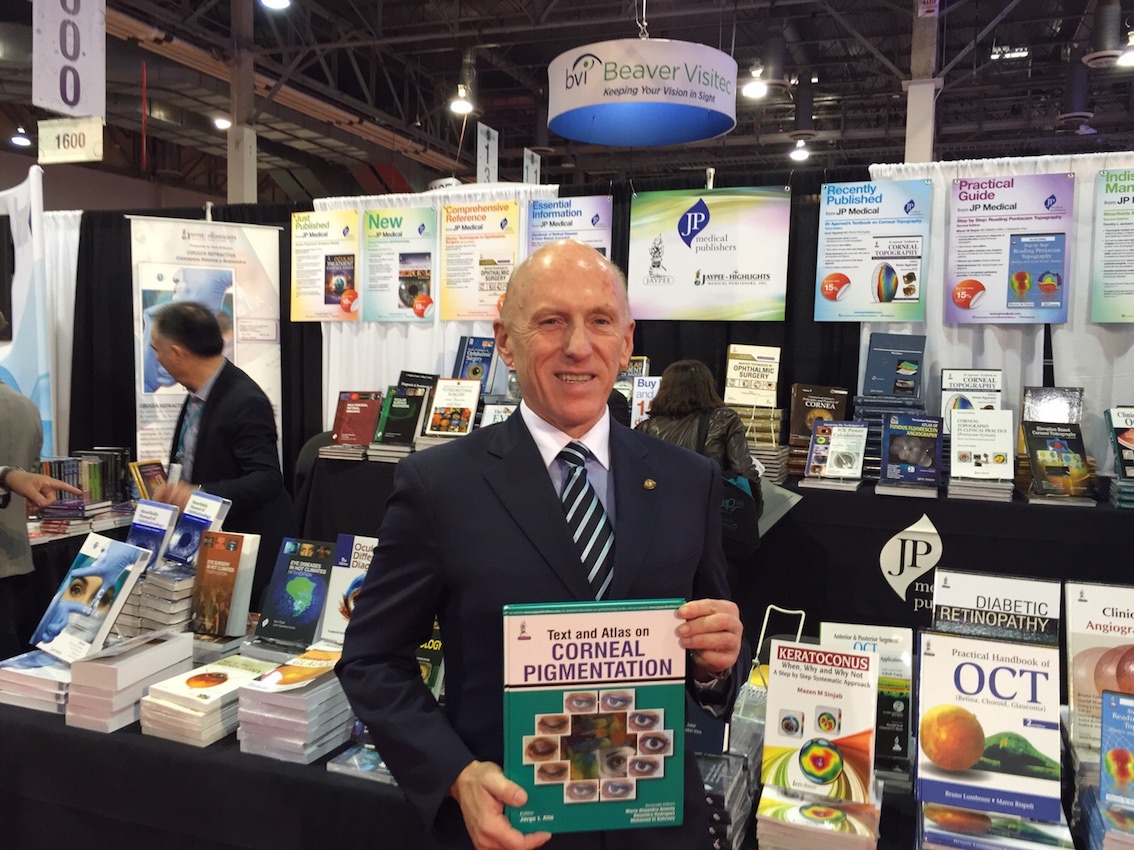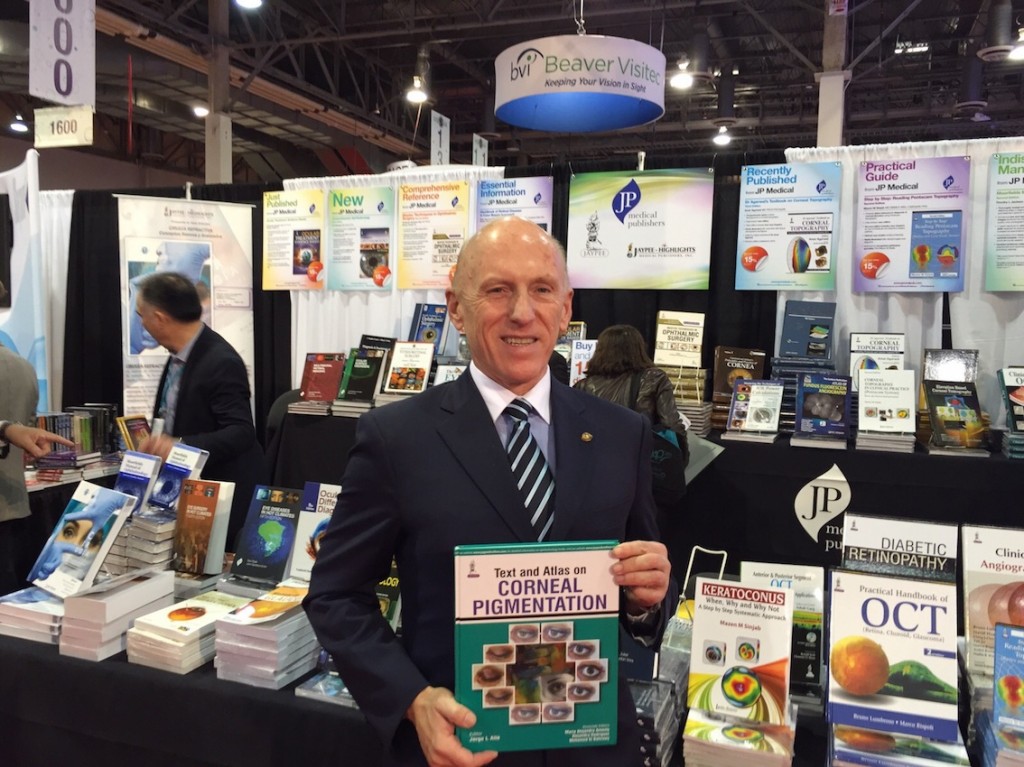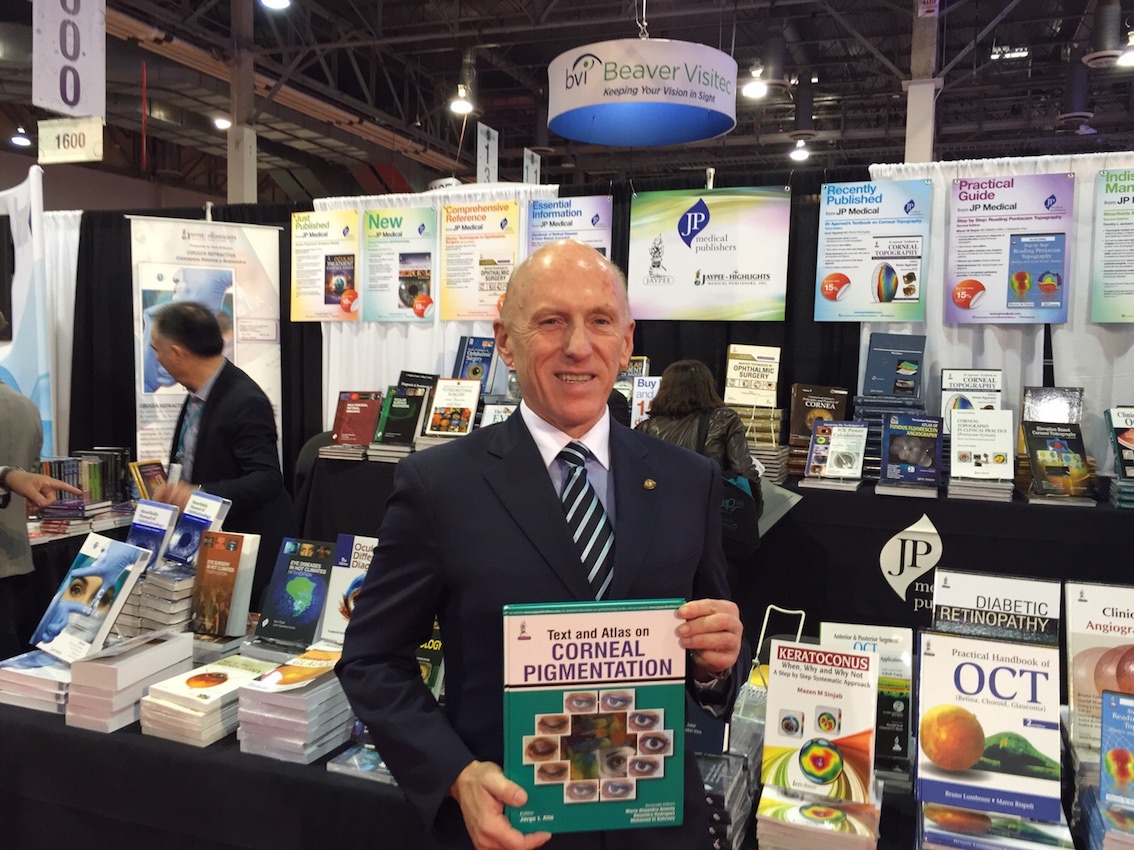 The newly appointed as academic of the Royal Academy of Medicine of Valencia (RAMCV), Dr. Jorge Alió, has recently published three books on new studies and techniques in ophthalmology that are already on sale. The publications are aimed at specialist in ophthalmology and are entitled 'Text and Atlas on Corneal Pigmentation', 'Studies on the Cornea and Lens' and 'Difficult and Complicated Cases in Refractive Surgery'. The professor and chairman of Ophthalmology at the Miguel Hernandez University of Elche presented these books at the last annual meeting of the American Academy of Ophthalmology (AAO) held in Las Vegas. It is worth mentioning that at this event Dr. Jorgé Alió was presented with 'ISRS Presidential Award', a prestigious award which recognizes his dedication and contribution in the field of refractive surgery and to the International Society of Refractive Surgery.
First book is entitled 'Text and Atlas on Corneal Pigmentation' and it refers to corneal pigmentation which involves femtosecond laser assisted colouring of the cornea for therapeutic and cosmetic reasons. This novelty, which consists of three sections, represents a highly illustrated review of keratopigmentation, including clinical outcomes, histopathological safety and surgical treatments. It is an ideal resource for ophthalmic surgeons, particularly corneal specialists, who wish to update their knowledge of keratopigmentation. This book was written by Jorge Alio in collaboration with Maria Alejandra Amesty from Moorfields Eye Hospital in the UK, MSc Senior Biologist and Microbiologist Alejandra Rodríguez, who is also an investigator at Vissum Corporation and Mohamed El Bahrawy, Senior Clinical Research Fellow from Vissum.
'Studies on the Cornea and Lens' makes an in-depth analysis of basic scientific concepts for professionals who work in the field of eye diseases. The publication is aimed at the residents, specialist and researchers who want to expand knowledge of corneal and lenticular diseases. 'Studies on the Cornea and Lens' is an essential addition to the library or department of physicians and researchers who treat or research these ocular conditions, particularly cataracts. It is also a key resource for cell biologists studying oxidative stress. ​This book is an authoritative contribution to Springer's Oxidative Stress in Applied Basic Research and Clinical Practice series. It was written by Jorge Alió, Mark A. Babizhayev, David Wan-Cheng Li, Anne Kasus-Jacobi and Lepsa Zoric.
The last publication, which was presented by Dr. Alió, is entitled 'Difficult and Complicated Cases in Refractive Surgery'. It is a richly illustrated book, which is intended as a gold standard for the refractive surgeon. It complements the authors' successful previous book, Management of Complications in Refractive Surgery, by providing detailed practical information on the management of specific cases. Worldwide leaders in the field document a wide range of challenging cases drawn from their own clinical practice. These cases relate to the planning of refractive laser treatment; intra operative complications when using LASIK (Microkeratome and Femtosecond) and various surface treatments, including PRK, PTK and EpiLASIK; early and late postoperative complications with these treatments and a range of other complications that may arise during or after refractive surgery. This book will be an indispensable aid for the refractive surgeon and will assist in decision making when the surgeon is confronted by a difficult case.