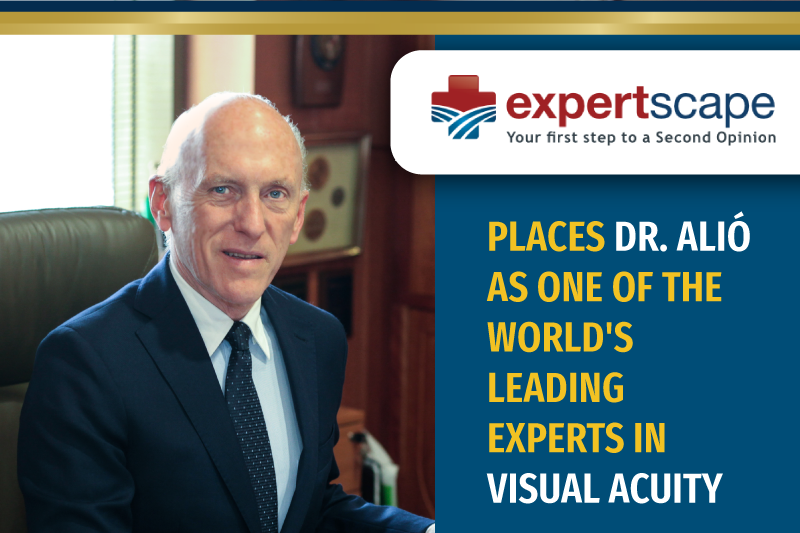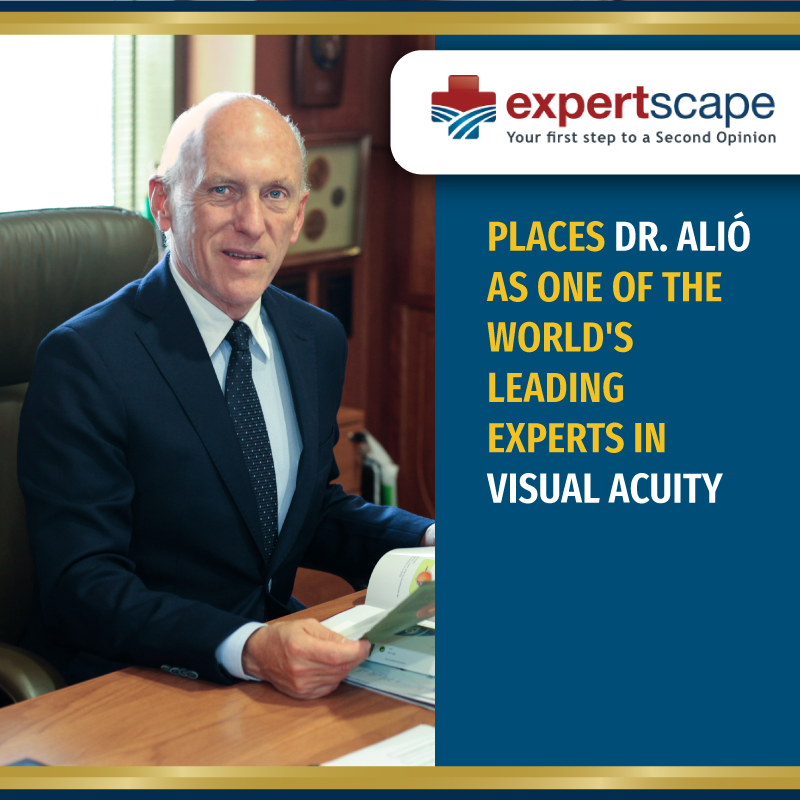 The doctor already leads 10 ophthalmological fields in this medical ranking website, which collects objective and relevant information for patients, professionals and hospitals on more than 29.000 topics
The international ranking website in biomedicine, 'Expertscape', has just updated the ranking of the visual acuity speciality, placing Dr. Jorge Alió as one of its leading experts in the world. Specifically, the professor is in fourth place worldwide, thus increasing his recognition and notoriety in the field of Ophthalmology. It should be mentioned that this professor of Ophthalmology at the Miguel Hernández University (UMH) of Elche, is a world leader in 10 fields of visual health such as refractive surgery, cataract extraction, intraocular lens implantation, ophthalmological surgical procedures, astigmatism, hyperopia, intraocular lenses, multifocal intraocular lenses, laser-assisted in situ keratomileusis (LASIK), and phacoemulsification, the best surgical technique that currently exists for cataract surgery.
This database has more than 29.000 different search topics. Its aim is to offer patients, professionals and hospitals the most objective and relevant information in order to find the best specialist for diseases, symptoms, or biomedical issues. This way it offers an extensive list of world, national, and local experts to solve any medical condition or problem, with Alió being one of the professionals occupying the highest positions within the ophthalmological references.
The founder of the Vissum Ophthalmology Clinics (Miranza Group) is also second in this international ranking in keratoconus, laser therapy, and corneal wavefront anomaly; and is among the top three in specialities such as anterior segment, cornea, presbyopia and refractive errors (myopia, hyperopia, astigmatism and presbyopia). Dr. Alió is also among the top ten experts in phakic intraocular lenses, corneal laser surgery, corneal stroma, corneal diseases, contrast sensitivity, myopia and photorefractive keratectomy.
Expertscape's methodology is based on the independent analysis of medical articles and scientific publications, thus achieving 100% objective information without popularity or commercial lists. For this purpose, it uses as a filter the classification according to reports and quality evaluations of the main hospitals and universities around the world, among other institutions. The renowned search engine scores both authors and articles according to criteria of topicality, type of article, and the journal in which it appeared. This method also ensures that the experts mentioned have demonstrated their expertise by putting their knowledge on paper and taking it through the rigorous review process that characterizes the scientific publishing.
In this database, the most extensive in the sector in the world, Jorge Alió shares the ranking with such important specialists as Thomas Kohnen, Jodhbir Singh Mehta and Scott R. Lambert. The former is a specialist in intraocular lens implantation, a branch in which he is in second place. The second one is only one place behind Alió in the field of Refractive Surgery. Dr. Alió has also been recognized as one of the best doctors in Spain according to the latest 'Best Doctors Spain' book by 'Forbes'.