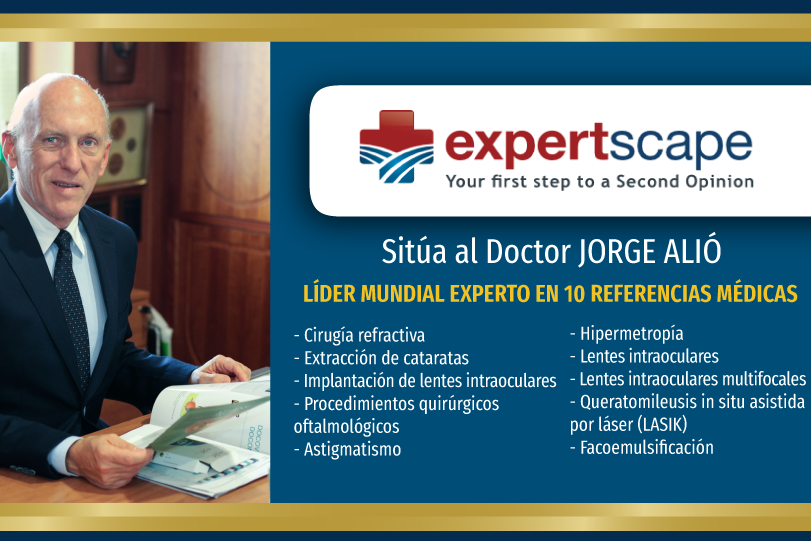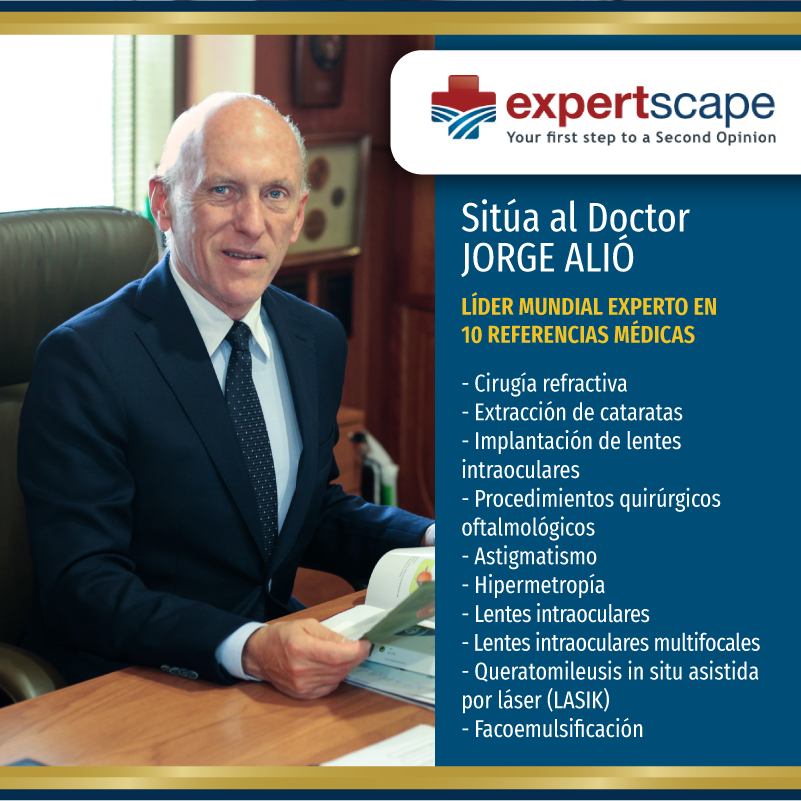 The 'Expertscape' biomedicine search engine brings together objective, relevant information for patients, professionals and hospitals on over 29,000 topics 
The benchmark international biomedicine ranking tool 'Expertscape' has once again ranked Doctor Jorge Alió as world leader in a range of visual health fields. The Professor of Ophthalmology at Miguel Hernández University (UMH) in Elche has again been ranked first in refractive surgery, cataract extraction, intraocular lens implantation and ophthalmologic surgical procedures. He was also placed first in astigmatism, hyperopia, intraocular lenses, multifocal intraocular lenses, laser in situ keratomileusis (LASIK) and phacoemulsification, the best surgical technique currently in existence for cataract surgery. This makes Dr Alió the number one world benchmark in 10 ophthalmologic specialities.
The database contains more than 29,000 different search topics. Its aim is to offer patients, professionals and hospitals the most objective and relevant information when searching for the best specialist for diseases, symptoms or biomedical topics. It offers an extensive list of international, national and local experts to resolve any medical condition or problem. Dr Alió is one of the highest ranked doctors across a range of categories on the database of ophthalmologic references.
Dr Alió, the founder of the Vissum ophthalmology clinics (Miranza Group), also places second in keratoconus, laser therapy and corneal wavefront aberration and is ranked among the top three positions in other specialities such as anterior eye segment, cornea, presbyopia and refractive errors (myopia, hyperopia, astigmatism and presbyopia). Dr Alió is also one of the top ten experts in phakic intraocular lenses, laser corneal surgery, visual acuity, corneal stroma, corneal diseases, contrast sensitivity, myopia and photorefractive keratectomy.
The Expertscape methodology is based on analysis of medical articles and scientific publications, which are used to provide information that is 100% objective, unaffected by popularity or marketing. Expertscape filters the information based on reports and quality evaluations by the main hospitals and universities worldwide, as well as other institutions. The website then assigns a score to both the authors and the articles, according to the article's year of publication, its type and the journal in which it appeared. This method also guarantees that the experts mentioned have demonstrated their experience by putting their knowledge on paper and subjecting it to the rigorous review process typical of scientific publication.
This database is the most extensive in the sector and Jorge Alió shares rankings with major specialists such as Thomas Kohnen, Jodhbir Singh Mehta and Scott R. Lambert. Thomas Kohnen is an intraocular lens implantation specialist, a field in which he ranks second on the Expertscape list. Meanwhile, Jodhbir Singh Mehta is ranked one place behind Dr Alió in refractive surgery. Dr Alió has also been recognised as one of the best doctors in Spain according to Forbes magazine's latest edition of Best Doctors Spain. 
DR ALIÓ'S RANKINGS ON EXPERTSCAPE
FIRST PLACE:
SECOND PLACE:
THIRD PLACE:
FOURTH PAPER:
FIFTH PLACE:
SIXTH PLACE:
SEVENTH PLACE:
EIGHTH PLACE: